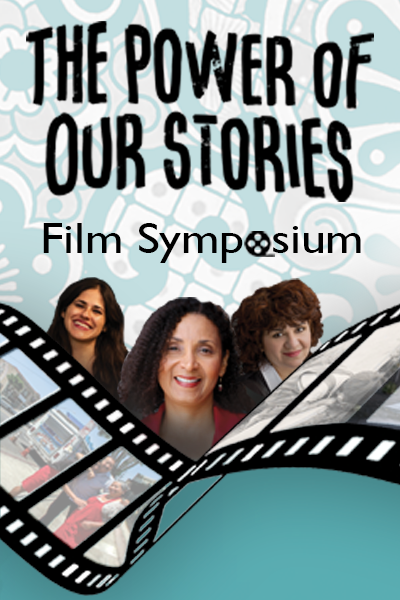 Directors' Talks with Iliana Sosa, Patricia Nazario, & Aracely Chapa
1:00 pm – 4:00 pm
On April 15th, participate in Director's Talks and question and answer sessions with filmmakers Patricia Nazario, Iliana Sosa, and Aracely Chapa from 1:00 pm to 4:00 pm in Salón Ortega. A full schedule of events is available below.
This is event is part of the 1st Annual NHCC Film Symposium: The Power of Our Stories.
Free Community Event. Please register here or call the NHCC Welcome Center at 505-724-4771 for assistance.
1:00 pm – Iliana Sosa: Ethics and Challenges in Making a Personal Documentary. Sosa discusses the ethics and the many challenges of the 12-year journey and production with film clips, stories and images. Over these years, Sosa filmed her grandfather's work, gently sifting through Julian's previously unspoken memories brought up by the construction project to reveal both the daily pragmatism and poetry of life. The personal documentary unfolds as a love letter to her grandfather and an intimate and insightful exploration of her own relationship with her grandfather and his homeland.
2:00 pm – Aracely Chapa: A Behind the Scenes look at the making of the film, Acequias – The Legacy Lives On. Produced and directed by award-winning filmmaker Aracely "Arcie" Chapa, Acequias is an hour-long, visually stunning documentary film about New Mexico's enduring acequias as seen through the eyes of farmers, advocates, scholars, parciantes and more. Chapa recounts an oral history of the films 5-year production with film clips and archival pictures.
3:00 pm – Patricia Nazario:  How to Finish a Documentary Film on a Shoestring Budget. Learn about the experience of a non-traditional filmmaker and resources used to maximize your budget.  The talk will empower anyone, regardless of their educational level, to compose a sequential film timeline.  I will share concepts, shortcuts, and links that helped me get started. I went to journalism, not film school. So, my learning curve was steep! Learn some tips and tricks of how to make a documentary film without going to film school.
Reserve Here
Event Navigation
Related Events