Events Search and Views Navigation
Events List Navigation
NHCC Art Museum
Every few years, the NHCC Art Museum refreshes its exhibit of artworks that showcase the breadth of the permanent collection. As always, the artworks featured in Aquí Estamos are global in scope and reflect the complexity of the Hispanic experience demonstrating that there is no one way to create art that exemplifies what it means to be Hispanic, Chicana/o, Latinx, and/or Latin American.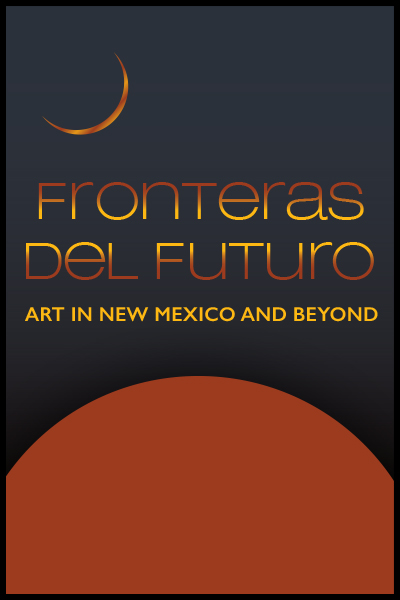 The National Hispanic Cultural Center Art Museum presents: Fronteras del Futuro: Art in New Mexico and Beyond
Fronteras del Futuro: Art in New Mexico and Beyond features artworks that explore the intersections of art, science, technologies (both ancient and modern), cosmic-musings, future-oriented visions, and more. The exhibition engages with themes that are relevant in New Mexico (and beyond) with contributions from artists in New Mexico, across the nation, and internationally. 
Artists:
Angel Cabrales
April Garcia
Augustine Romero
Celeste De Luna
Cynthia Cook
Ehren Kee Natay
Enrique Chagoya
Enrique Martinez Celaya
Eric J. García
Esteban Bojorquez
Felicia Rice
Gilbert "Magu" Luján
Guillermo Gómez-Peña
Laura Alvaraz
Lazarus Nance Letcher
Linda Vallejo
Marion Martinez
mk
Máye Torres
Mike Moreno
Miles Tokunow
Nicole Marroquin
Nikesha Breeze
Oscar Moya
Patrick McGrath Muñiz
Rachel Muldez
Ryan Singer
Santiago Pérez
Stevon Lucero
Tigre Mashaal-Lively
Tony Ortega
The Mountains Wore Down to the Valleys is a collaborative sound and visual installation by New Mexican artists Adri De La Cruz and Marisa Demarco. The multi-phase exhibition begins with a sound experience that transforms over the course of 72 hours as 20 musical compositions on vinyl records erode over time.  Stories of strength emanate from another record that plays multigenerational interviews with one artist's family members. This record, a document of lineage, will endure. Once the musical compositions have worn away, etched portraits of the interviewees will be presented on the reverse side of each record on visual display.
The exhibit is an exploration of love, family, community, and the perseverance of generations. Each component symbolizes an experience—the grooves on a record much like mountains and valleys, the materials, strong and enduring, yet fragile and malleable.
Join us for an opening reception to celebrate the artists on Friday, November 4 from 5-7pm.
Visit the NHCC Art Museum Community Gallery between November 4 and November 6 from 10am – 4pm for the sonic experience.
The visual installation will be on view from November 8, 2022 to April 23, 2023.
+ Export Events