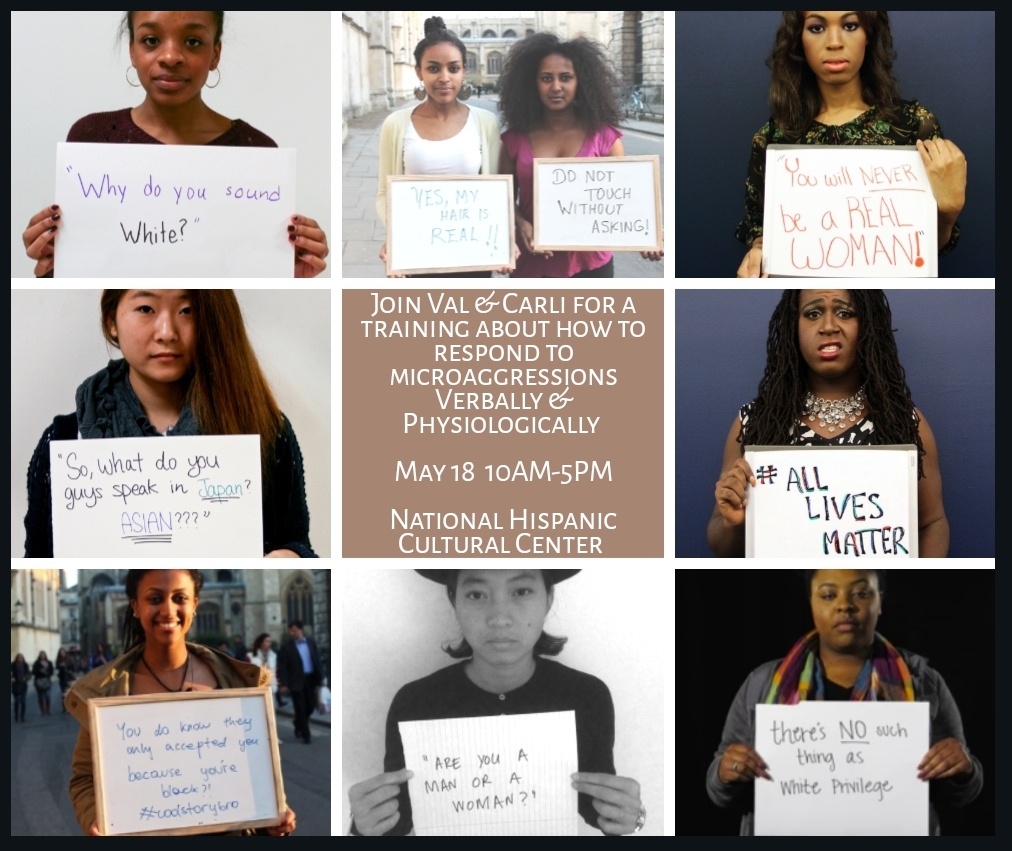 Surviving Microaggressions Workshop (Rental)
10 am – 5 pm
Domenici Education Building, Room 122/124
When you are often the only person who identifies the way you do, entering a room can be extremely uncomfortable. Now imagine that a joke is then made on your behalf. Poking fun at your natural hair, or teasing your personality characteristics because they reject the stereotype associated with your group affiliation. "Not being black enough," "Acting white," or having your native language skills criticized by friends and family are often commonplace. These statements or questions are often a way to challenge our belonging or even our presence in certain spaces. This can happen at school, work or even at the grocery store. Learn how to work through these situations and what to say when microaggressions appear.
$40 Early Bird Registration, $80 Groups of 3 & $60 Late Registration
(fees not included in the price of the registration)
Val Day-Sanchez and Carli Romero present a 1 day training on handling these dangerous comments in our daily lives. Using Val's hit book, The Only Black Girl in the Room as the basis of the curriculum, Val creates a safe space to learn how to talk about difficult topics like race, implicit bias, sexism, and gender identity. Carli will focus on our bodies. How do we center ourselves and our breath when we are triggered by microaggressions.
Through a series of activities, and discussions, participants will leave with options when they are the target of a microaggression from family or friends. We've all been caught off guard when certain comments are made. When do we say something? When can we say something? And more importantly, when we speak, how can we ensure we are heard?
Schedule
10 am Introductions: We are all entering this workshop from different places in our lives and in our understanding. That doesn't mean we should judge.
10:15 am What Is A Microaggression?: It doesn't matter if it was a joke, or your intention was to provide support, if someone leaves the interaction feeling offended or unsafe, clearly your intention was not aligned with your impact, now what? Perhaps you are singled out because of your sexual orientation? You go home to visit and feel anxious and bombarded by the off the cuff comments that are made, asking why you aren't married? Or perhaps at a company mixer your coworkers begin debasing your friends because of their race or religion? You want to say something but you're worried about offending your family, being alienated at work, or ostracizing your friends, what are your next steps?
11 am White Fragility, Relationship Dynamics & Trauma: What are the barriers keeping us silent? Who is speaking? Do we feel safe? Do we have power? All of this can effect how we respond to this poisonous statements. We all have biases, some we are aware of while others just seem natural. We've never examined them before. How do microaggressions reintroduce us to our past trauma? What's the harm in stereotypes and assumptions and why does it seem like white people seem more surprised by this than people of color? Well, that phenomenon actually has a name, "White Fragility."
12 pm-1 pm Microaggressions and Recovery: The tightening of our chest, sweaty palms, shortness of breath, this is often how our bodies respond to microaggressions. Learn coping mechanisms to help with this process. Shame, grief, anger, guilt can come up when speaking to microaggressions on either side of the instances, how do we deal with that? Well, it starts with sending love to our past self. We are talking about the reality that our beliefs drive our behaviors. Now from a mindfulness/therapeutic/recovery perspective – growth requires an ongoing examination of beliefs, and that is intricately connected to our racial/gendered conditioning. Let's learn how to recognize and shift our beliefs which are grounded in biases.
1 pm-2 pm Lunch Break: Off Campus
2 pm-3 pm How Can we Respond to Microaggressions?: Let's work through case studies. If it was a friend or an acquaintance versus the family matriarch? What about your employer or someone you work with? What can you say when confronted with a microaggression depends a lot on the setting.
4:30 pm-5 pm Closing thoughts: Whether we identify as marginalized group members or as an ally, what can we do in our little space in the world to create a more inclusive environment? Is it the way that we talk? The way that we engage on social media? How we speak with our family members about politics?
***Early Bird Registration rate until April 30th***
**Scholarships Available, contact Event Organizer for details**
Facilitators:
Val Day-Sanchez (pronouns include, she/her/hers, they/them/theirs) is a tenured professor of communication, social activist, author, TEDX speaker, and intersectional feminist. Dedicated to education, she believes it has the power to combat social justice issues that plague our society. Val co-founded the All This podcast to discuss difficult topics and increase diverse representation in media. They facilitate Equity & Justice Workshops and Women's Retreats around the world, to help professionals, and organizations, embrace inclusive practices. This inclusive lens is reflected in their cultural responsive teaching, equity based curriculum design, and college service within Equity centered policy change. Val's TEDx Talk: Silence is Killing Us
Carli Romero (she/her/hers) has served communities throughout New Mexico as a community organizer and facilitator, through a gender and trauma-informed lens, for over a decade and now works as an Operations Coordinator with NewMexicoWomen.org. She holds a BA in Economics as well as Political Science and is currently studying for her master's in Educational Leadership at the University of New Mexico. Carli has training in Reiki, Ortho-bionomy and Pranic Healing and enjoys the way energy interacts with all systems. In her commitment to dismantling internalized and externalized systems of oppression, she is continuously engaged in both learning and teaching opportunities that help her to better understand her role in promoting healing and equity.
If you would liked to get your copy of The Only Black Girl in the Room prior to the workshop it is available here. ***copies of the book will be on sale*** Carli's book, Sistar, I See You: Writings of Womyn and Their Magical Ways can be purchased here
The title, content, photos/images and description for this event were provided to the NHCC by the organization renting the NHCC venue for the event. By serving as a venue and posting the event on its website, the NHCC is not endorsing any views expressed in the title or description of the event, nor is it endorsing the content of the event.
Related Events