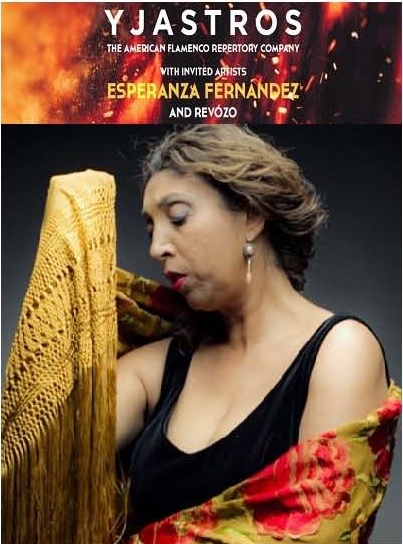 Yjastros: The American Flamenco Repertory Company Presents Yjastros 36: El Fuego Fatuo
March 13, 2020 - March 14, 2020
All events at the NHCC through April 9, 2020 have been postponed.
Please call the NHCC at 505-246-2261 for more information.
8 pm—Friday
2 pm & 8 pm—Saturday
Yjastros: The American Flamenco Repertory Company presents Yjastros 36: El Fuego Fatuo, a dynamic display of flamenco's possibilities framed through Spanish composer Manuel de Falla's famous work "El Fuego Fatuo"—referring to the persistent fire that is the spirit of flamenco. With world premiere choreography and invited artists including Sevilla's world-famous flamenco cantaora (singer) Esperanza Fernández and the musical group Revózo led by Vicente Griego and César Bauvallet (Son Como Son), El Fuego Fatuo is a dazzling display of flamenco and stunning musical compositions. The interplay among expressive interpretations of de Falla's work through the vehicles of both dance and music give audiences access to flamenco's power to evoke profound emotions and connect us all.
$30, $40, $50, $60 w/ $5 discount for students, seniors and NHCC members

A unique artistic treasure in the American cultural landscape, Yjastros proudly brings the creative visions of world-renowned flamenco artists to the American public, while cultivating the living art of flamenco in the United States.
Thank you to our Performing Arts Season Sponsors Heritage Hotels and Resorts, the Albuquerque Journal and Southwest Airlines!
Event Navigation
Related Events