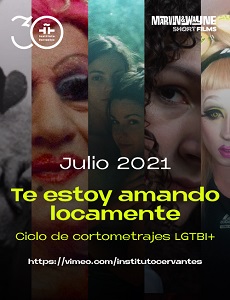 Film:Te estoy amando locamente, LGTBI+ Short Film Series: Una dedicatoria a lo bestia
July 6, 2021
8 pm (MST)
Available for 48 hours
Instituto Cervantes Vimeo Channel HERE
Una dedicatoria a lo bestia, a 2019 documentary by Nucbeade (the collective formed by artists QuielaNuc and Andrea Beade), focuses on a variety of objects found at the headquarters in San Fernando de Henares of the Patronato de Protección a la Mujer. This internment center for young women ages 13 to 21 was in operation from 1944 to 1985. The filmmakers' use of documentary as an archaeological exercise, uncovering evidence of the daily reality experienced at the site, offers valuable insights into an uncomfortable and little-known part of recent Spanish history, and raises ongoing questions. Can evidence of resistance and rebellion be found in a space that was constructed for the repression of female sexuality? What memories are activated by these relics, and how can they be integrated into the historical record of the Franco regime and Spain's transition to democracy?
2019; Spanish with English subtitles; 10 minutes; not rated.
Free community event
During the month of July, in a collaboration with film distributor Marvin & Wayne, the Vimeo channel of Instituto Cervantes Albuquerque hosts Te estoy amando locamente, LGTBI+ Short Film Series. The series comprises eight different stories by eight filmmakers, showcasing a remarkable variety of cinematic language while dealing specifically, but not only, with issues of gender identity, same sex love,and transsexuality. These personal reflections, testimonies, and portraits present viewers with realities that are generally underrepresented in cinema. Taking its name from a song popularized by Las Grecasin the 1970s, Te estoy amando locamente is presented in collaboration with the National Hispanic Cultural Center as part of the Bank of America Free Film Series.
Te estoy amando locamente programming:
* Tuesday, July 6: Una dedicatoria a lo bestia (Nucbeade, 2019)
* Friday, July 9: Después también (Carla Simón, 2019)
* Tuesday, July 13: Su (Laia Foguet, 2019)
* Friday, July 16: Victor XX (Ian de la Rosa, 2015)
* Tuesday, July 20: Cantando en las azoteas (Enric Ribes, 2017)
* Friday, July 23: Snap (Felipe Elgueta & Ananké Pereira, 2018)
* Tuesday, July 27: Alma (Santiago León Cuéllar, 2018)
* Friday, July 30: El cuerpo de la mujer sin sombra (Tamara García Iglesias, 2021)
Event Navigation
Related Events