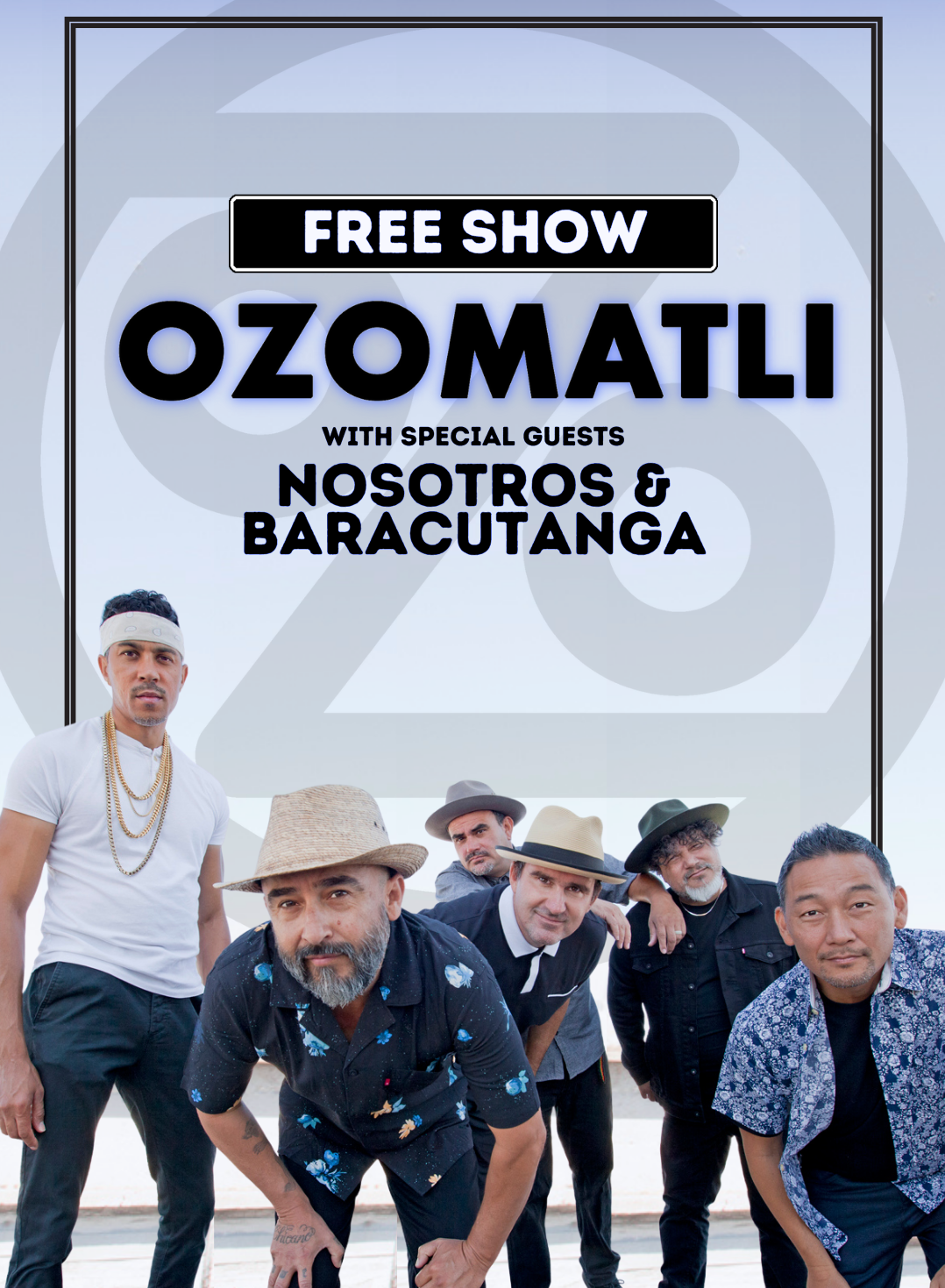 Ozomatli with special guests Nosotros & Baracutanga
July 3
This event has reached capacity and is sold out. 
IMPORTANT: ALL RESERVATIONS WILL EXPIRE AT 6:30 pm AND WE WILL OPEN SPACE FOR PEOPLE WAITING IN LINE. If you have not checked in by 6:30 pm your reservation will be released, and it will be 1st come 1st serve after that until we reach capacity!
Gates open at 4:30pm. Music starts at 5:30
Join us for a special performance on NHCC's Plaza Mayor, featuring Ozomatli with special guests Nosotros & Baracutanga! This free performance of powerhouse Latin musicians is presented by Lensic 360, NM Music Commission and the NHCC.
This outdoor event will occur regardless of the weather, so dress accordingly. Blankets, lawn chairs, and low-style camping chairs are welcome. There will be food vendors and free water refill stations available, but outside food is prohibited. There will be a designated ADA-compliant area with chairs available.
Rain or Shine |  Bags Subject To Search | Lawn and Low Profile Camping Style Chairs Welcome | Blankets Welcome | Free Water Refill Stations (Bring your own reusable bottles) | Food Vendors Will Be On Site | No Outside Food | ADA Area with Chairs Available | Only Clear Bags Allowed on Campus | No Weapons of Any Kind Allowed | No Fireworks Allowed on Campus
Please follow the attached guidance for parking during this event: Ozo Parking Map Zoom out, Ozomatli & Friends Parking Map for the Monday July 3rd concert on the Plaza Mayor at the NHCC
About the performers:
OZOMATLI
Ozomatli's collaborative, energetic blend of multi-cultural music and activism has earned them three GRAMMYs®, four Hollywood Bowl shows, a TED Talk and much more. Since forming in 1995,the Los Angeles-bred lineup has inspired and energized listeners as far away as Burma and Mongolia: Ozo's messages and music, sung in both Spanish and English, need no translation.
In 2022, Ozo's new songs, stronger-than-ever brotherhood and creativity culminated in Marching On. Produced by David Garza (Fiona Apple, Sparta) at El Paso's Sonic Ranch, the LP's 11 songs are a unified blend of the members' influences and ideas. Guests include J.J. Fad and Lisa Lisa on "Fellas," while "Mi Destino," sung in both English and Spanish, features Cypress Hill's B-Real and Guatemalan singer-songwriter Gaby Moreno, who also lends her vocals to the title track "Marching On."
NOSOTROS
Nosotros is one of the most recognizable Latin bands, in the Southwest United States. They have twice been featured on NPR's Alt Latino, twice been named winners in the prestigious John Lennon Songwriting Competition, been awarded 13 NM Music Awards and have shared the stage with some of the biggest names in music. This Latin music powerhouse, seamlessly combines Latin rhythms with elements of Rock, Salsa, Jazz and Cumbia creating an original sound that is unmistakably Nosotros. But M.E. Schenck of Hyperactive Music Magazine may have interpreted their sound best by saying "Nosotros' music is not to be explained, it is to be felt in the pit of our souls."
BARACUTANGA
Baracutanga is a seven-piece band, representing four different countries (Bolivia, Ecuador, Peru, USA), that blends South American ancestral traditions with a modern sensibility, whose exciting and distinct Latin flavor keeps crowds dancing and always wanting more. Baracutanga creates songs that cross linguistic and cultural barriers, building bridges between the south and the north, overcoming the barriers of discrimination and promoting intercultural experiences that empower Latinos and all people with a positive message of self-affirmation.
Reserve Here
Event Navigation
Related Events