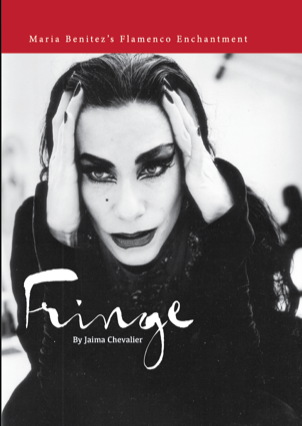 Book Reading and Signing: Jaima Chevalier and her Book "Fringe"
November 8, 2019
6:30 pm
Jaima Chevalier's book Fringe is a tribute to flamenco legend María Benitez and includes almost 200 rare and exclusive images from locally famous to world-renowned photographers, all showcasing Benítez's central role in dance history. Beníitez is an iconic figure in American flamenco. Her riveting story begins with the complexity of her mixed Native American and Puerto Rican heritage followed by her extraordinary journey as a young woman leaving her home on the outskirts of Taos Pueblo to study flamenco in Spain. From the inherent irony of her identity as a Native American woman striving to master the art of a culture that had colonized the Southwestern United States, she grew into an artist driven to forge her own way in the world, starting a business, , a non-profit institution, a school, and a professional touring company. Her illustrious career, from appearances in film and television to stages across the world, is an inspiration to artists, students of history, and seekers of core human truths. Her ability to overcome both racial and gender discrimination made her equally comfortable on the Metropolitan Opera stage as well as dancing around a gypsy campfire–all coalescing to make her story one that dances straight into the heart of what it means to be an American original.
Jaima Chevalier, a Santa Fe native, is the author of five books including La Conquistadora: Unveiling the History of Santa Fe's Six Hundred Year Old Religious Icon and Nativo (with Oliver Galvan-De La Cruz). Her documentary films include Veiled Lightning/Native Voltage (director) and El Corazon de Santa Fe (Producer).
Join us in the Salon Ortega of the historic History and Literary Arts Building on the NHCC Campus.
This event is free and open to the public
Event Navigation
Related Events