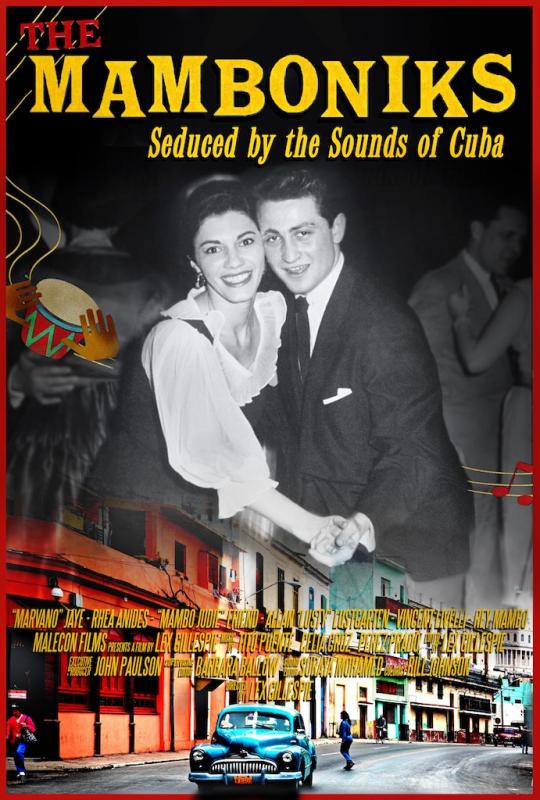 Film: The Mamboniks
July 28, 2019
2 pm
Lox and bagels meet salsa and congos in Peabody Award winner Lex Gillespie's joyous and singular celebration of the Jewish love affair with Latin music and dance, set in New York, Havana, Miami Beach, and the Catskill Mountains. During the 1950s, free-spirited, mostly Jewish dancers from New York City fell head over heels for the mambo, the hot dance from Cuba that became a worldwide sensation. Their love for Latin rhythms earned them a nickname: the "mamboniks." Now retired, yet still dancing in Florida, a lovable, somewhat zany collection of dancers from the '50s share a passion that age has not cooled. With colorful first-person accounts and an infectious Afro-Cuban soundtrack including Tito Puente, Celia Cruz, and "mambo king" Pérez Prado, The Mamboniks explores a largely unexamined and exhilarating aspect of Jewish life and culture, and a time when Jews, Latinos, and African-Americans met on the dance floor, although America was racially segregated and anti-Semitism was commonplace.
2018; Lex Gillespie; English; 89 minutes; not rated.
Following the screening, join us in the lobby outside the theatre to celebrate the film, and the finale of the 6th Annual ABQ Jewish Film Fest, with a "Cuban nosh" provided by La Fonda del Bosque and a cash bar provided by Pop Fizz.
The Jewish Community Center's 6th Annual ABQ Jewish Film Fest features six recently released film premieres, weaving a colorful tapestry of uniquely Jewish stories that come from around the world. The NHCC is partnering with the JCC on the screenings of Leona (July 20) and The Mamboniks (July 28).
Tickets are being sold by the Jewish Community Center; $10 in advance, $12 at the door, $55 for a full festival pass (6th Annual ABQ Jewish Film Fest)
Related Events